"very cheap price"And "cheaper than cheap"And "cheaper than the cheapest" … This has been the slogan of some major mobile retailers lately when it comes to the price of the iPhone 14 series.
Over the past time, under the pressure of excess goods along with consumers "tightening their belts" during tough economic times, the iPhone 14 price has been constantly adjusted. Compared to previous iPhone models, representatives of several dealer chains confirmed that iPhone 14 Pro Max is the fastest depreciation device ever.
iPhone 14 Pro Max 128GB "peak" price was around 33-34 million VND at the end of 2022. But for now, many dealers such as The Gioi Di Dong, FPT Shop, CellphoneS, Mobile Vietnam.. are currently selling the same model For only 26 to 27 million dong.
Specifically, the cheapest price belongs to the black iPhone 14 Pro Max 128GB, which is listed on many platforms for around VND 26.4 million. The remaining colors are about 300,000 to 500,000 VND.

However, in fact, this is still not the cheapest price in Vietnam. This title still belongs to e-commerce platforms like Shopee. Specifically, during the monthly sale days (the latest example is May 15th), Shopee often offers shock discount codes worth 5-8% of the product value, and the maximum discount can reach 2 million.
After applying the discount code and the flash sale, as mentioned, the iPhone 14 Pro Max can be owned for 25.9 million VND. Most importantly, the price of this iPhone 14 Pro Max is for the purple color many Vietnamese are looking for, not the black color "offloaded" by dealers. Thus, users can save up to millions of dong when purchasing an iPhone through this model.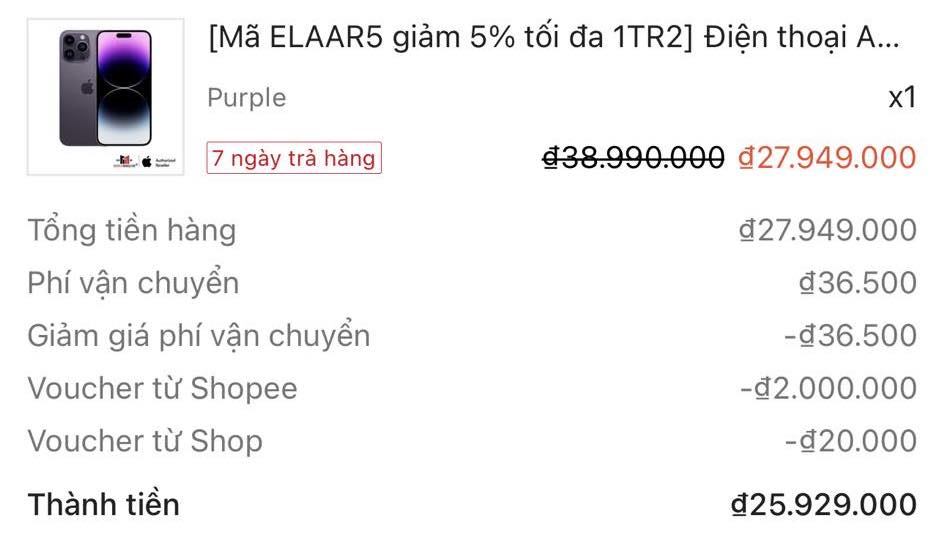 In fact, besides the original Apple Store on Shopee, this e-commerce platform also has many other retailers like ShopDunk or Minh Tuan Mobile. But when buying an iPhone from these distributors through Shopee, users get a lower price than when buying directly from the merchant, regardless of the offline or online channel (website). This is due to the e-commerce floor support.
On the contrary, in order to buy cheap when buying on the e-commerce floor, buyers will have to have certain "fishing for sale" skills; For example, staying up late, watching the time frame to win an opponent's code, or a "quick hand and eye" on the payout move. Buyers will also have to wait 3-5 days for shipping, rather than immediately 'unboxing' as when buying directly from a store. In the event that there is a problem with the order, the processing process will also be more complicated because it has to go through the e-commerce floor.
[Box thông tin shop] – GK iPhone 14 Pro Max