[Intro] Friends, this moto G31 seems like an interesting phone! Its price is Rs 12,999 & it has an AMOLED screen, which is Full HD+! An AMOLED screen with FHD+ for Rs 12,999. Remember, Redmi Note 10 was the one that launched before with such a price & this is the same. But now the Redmi Note 10s price is around Rs 14K or more as Xiaomi increased it.
This is the cheapest AMOLED smartphone at Rs 12,999! Lets quickly unbox it! Alright, the box is proper now as they used to open in another way before.Brilliant 16.26cm OLED Display.
Lets see how brilliant it looks! But we'll keep the phone aside. It comes with a case & what else is there in the box? There's a 20W charger & I like this! That's why I said it's interesting!
Because it's launched globally with a 10W charging. While in India, it comes with a 20W charger. So that's very good motorola! There's also a USB to USB Type C cable. There's nothing more, so let's keep this all aside.
[Box Drop Test] Let's look at the phone! We'll peel off the screen cover & take out the case too. We'll do its drop test later. Oh! Look at that texture!
There's a unique texture on the back. I like it! There's a rear mounted fingerprint sensor that has a Motorola logo on it. You can see that. In Hand Feel – A side mounted fingerprint would've been good but it's ok as this phone feels light & compact in the hand.
My hands are slightly big but still, this phone isnt very big. It has a very nice & good in hand feel & it must be around 175-180g in weight. Let's test! This is 180.6g, so there's a 2-3g difference.
But yes, I'd say it's on the lighter side. One-hand operation will be much easier on this. And we'll do its drop test so do wait for it! Display – I really want to see & check its AMOLED display's quality. It's impressive!
Seriously, look at the blacks! I don't how it'll look from the cameras but it's quite impressive to be honest. The blacks are clear blacks & the brightness is very good too.It has a 700 Nits peak brightness which is very good along with its ppi(Pixel Per Inch) is also high at 409ppi. If you look at the bezels, the upper, side bezels & chin are average sized.
There's 1 more good thing, the center punch hole has a small size. Display – I'll seriously give it full marks looking at the Rs 12,999 price point. Multimedia – It's very good! The audio quality is loud & has an above average quality.So multimedia viewing is going to be fun especially with that AMOLED screen.
Performance – It comes on Helio G85 SoC, I know it's old, tried & tested but it's a capable SoC. We couldn't find out the AnTuTu scores as the GPU scores were showing zero & we tried it multiple times. But this chipsets AnTuTu scores are between 2.10-2.20L, which is respectable as it shows on paper because when we were playing games, we played BGMI on HD-High settings & there were no frame drops.
It had smooth gameplay. So it was fun to play on a good display with good audio with no frame rate drops. Battery – To supplement that, its battery is 5000mAh with a 20W charger so that's good. If it were 10W, then I thought it would've been very slow, so 20W is good & the 5000mAh will easily last you for 1.5-2 days.
Because the display is a 6.4 & its not as big as 6.7/6.8. Its size is ideal so the battery is very good too.
But theres 1 thing about performance, the storage type here is eMCP & the RAM Type is LPDDR4X. There are 2 variants – 4GB+64GB(Rs 12,999) & 6GB+128GB(Rs 14,999). OS UI – I'll talk about the cameras but I like motorola in terms of UI. Because it has Stock Android in it plus you get many customization options through MyUX. You can change icons, transition animations, etc.
Even the icon shapes & colors can be changed. So you get the best of both worlds. And the battery runs for so long because of Stock Android. This phone comes with Android 11 out of the box & it's going to get the Android 12 & 13 update soon! Features – This is a Rs 13K phone & it has some flagship level features like the ThinkShield security.
It's kind of an extra layer of security just to keep your data safe! Connectivity – It comes with Dual Band WiFi, there's 2×2 MIMO(network connectivity will be better & stable). There's Bluetooth 5.0 connectivity & it's a 4G chipset. It has Dual 4G VoLTE & WiFi calling support so no problems there.
Sensors – All sensors are present on this phone including a rear mounted fingerprint sensor & face unlock that work well. Extra Features – There's Widevine L1 support along with Camera2Api support. And there's a notification light! After a long time I've seen a notification light! There's also FM Radio & it has a water repellant design as it has an IPX2 certification.
Ports & Buttons – Generally the Rs 12-13K phones don't have a noise canceling microphone. Theres 1 microphone included on this phone & theres a 3.5mm jack above. On the right, there's a power on/off button, a volume rocker above it & a dedicated assistant button on the top. There's a USB Type C speaker grill & microphone.
On the left, the sim card slot is a hybrid slot! So you can use 2 sims or 1 SD card & a sim card.Camera – The camera setup is very good. Motorola says it's quad function but it's a triple camera setup. It has a 50MP primary camera, an 8MP ultrawide sensor & 2MP macro sensor.
The 8MP(ultra wide) is not available on phones around Rs 10-13K, I don't know why. I love the ultrawide sensor on this phone as it doubles up as a depth sensor & there's no need for the extra 2MP depth sensor. On the front, you get a 13MP center punch hole selfie sensor. I'm showing some photos, the 50MP sensor clicks good rear photos but I was more impressed with the selfie camera! Its very good for a 13MP sensor & shows good skin tones.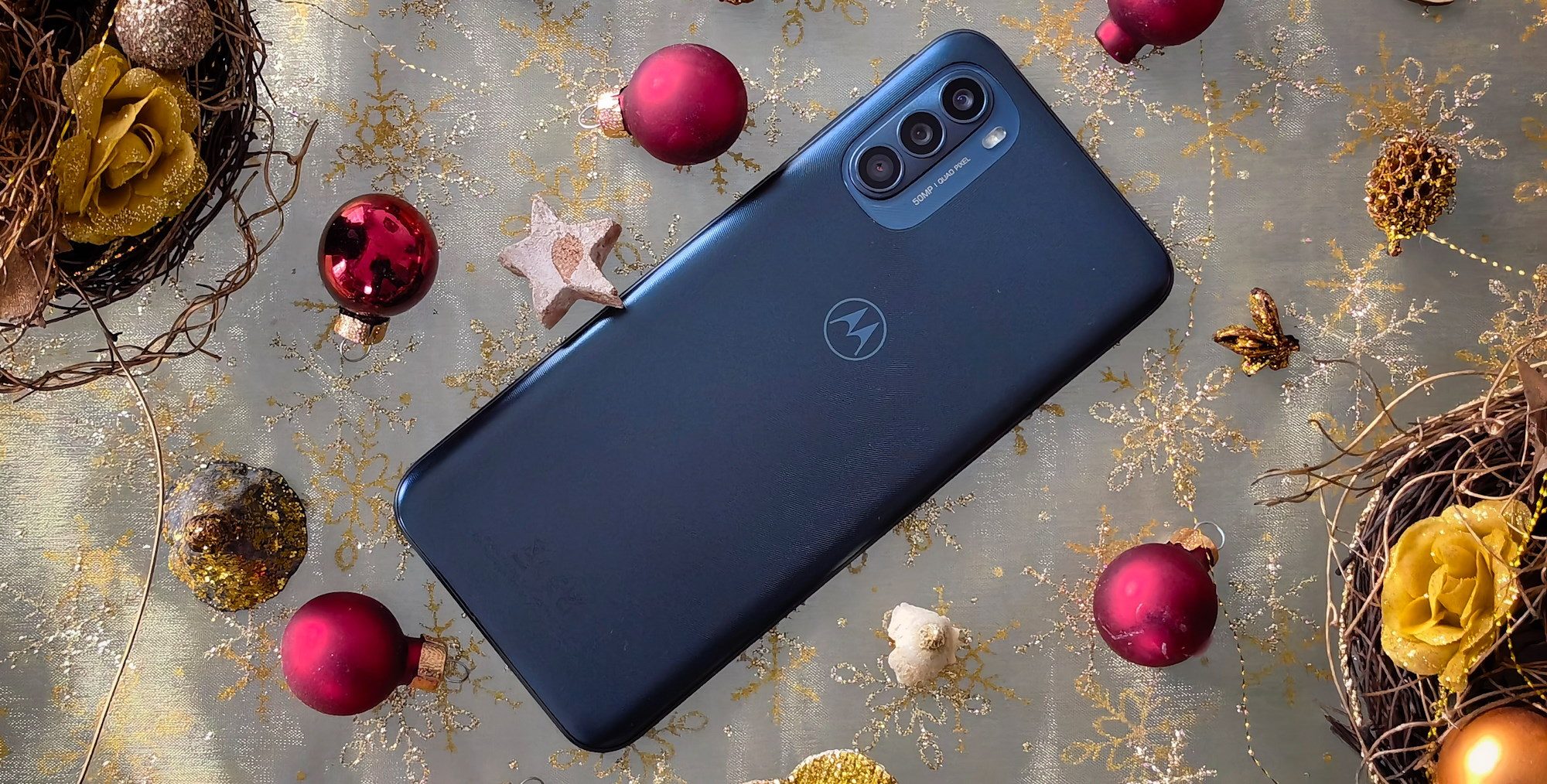 These are my first impressions of the camera under normal conditions but I like them. But I like 1 thing more, the camera features! There's a dual camera mode, where you can simultaneously use the primary/ultrawide sensor along with a selfie sensor. There's a cinemagraph feature, where you can move an object on the photo screen. It's an interesting combination of moving images.
There's also spot colour, other portrait modes etc. Overall, the camera setup is good! And you guys are waiting for the drop test, let's do it! [Drop Test] It jumps/bounces, but the case is very good & the build quality is good too. So what do I think about this phone?
3-4 things really stand out! Its price is Rs 12,999. It has an OLED FHD+ display. The camera is good at this price. And like all motorola phones, its OS is stock Android plus customizations which is good!
The battery is big along with a 20W charging unlike the internationally launched 10W charger. The thing I didn't like is eMCP. A UFS storage would've been better. And there's no 5G chipset as well. But then the price would rise too.
So overall, according to the price, my first impressions are good about the motorola G31. If you enjoyed the video, then do hit LIKE & do give us some feedback/suggestions.That's all for this video, until the next one, Keep Trackin & Stay Safe!.