Along with the flagship Find X, it would not be wrong to say that Reno is an important smartphone line for OPPO. Since its launch, Reno has garnered a lot of attention from young people with its "GenZ" design, which is equipped with a series of modern and new technologies, with a special focus on camera quality, taking selfies – something that young people have always been interested in.
Initial impressions were good, but it is worth noting that OPPO Reno has a very fast "evolution" speed. Since its announcement in 2019, Reno has now reached its tenth edition with a series of upgrades in both exterior design and imaging capabilities to keep pace with the rapid pace of innovation and self-improvement of today's youth.


It is not wrong to say that the first generation OPPO Reno is a "dark horse" product, especially unexpectedly. The first generation featured a motorized "shark fin" selfie camera system that floats when in use and folds when shooting is complete. This design helps the device to have a flawless screen because there is no place for the selfie camera, along with a very modern and different look.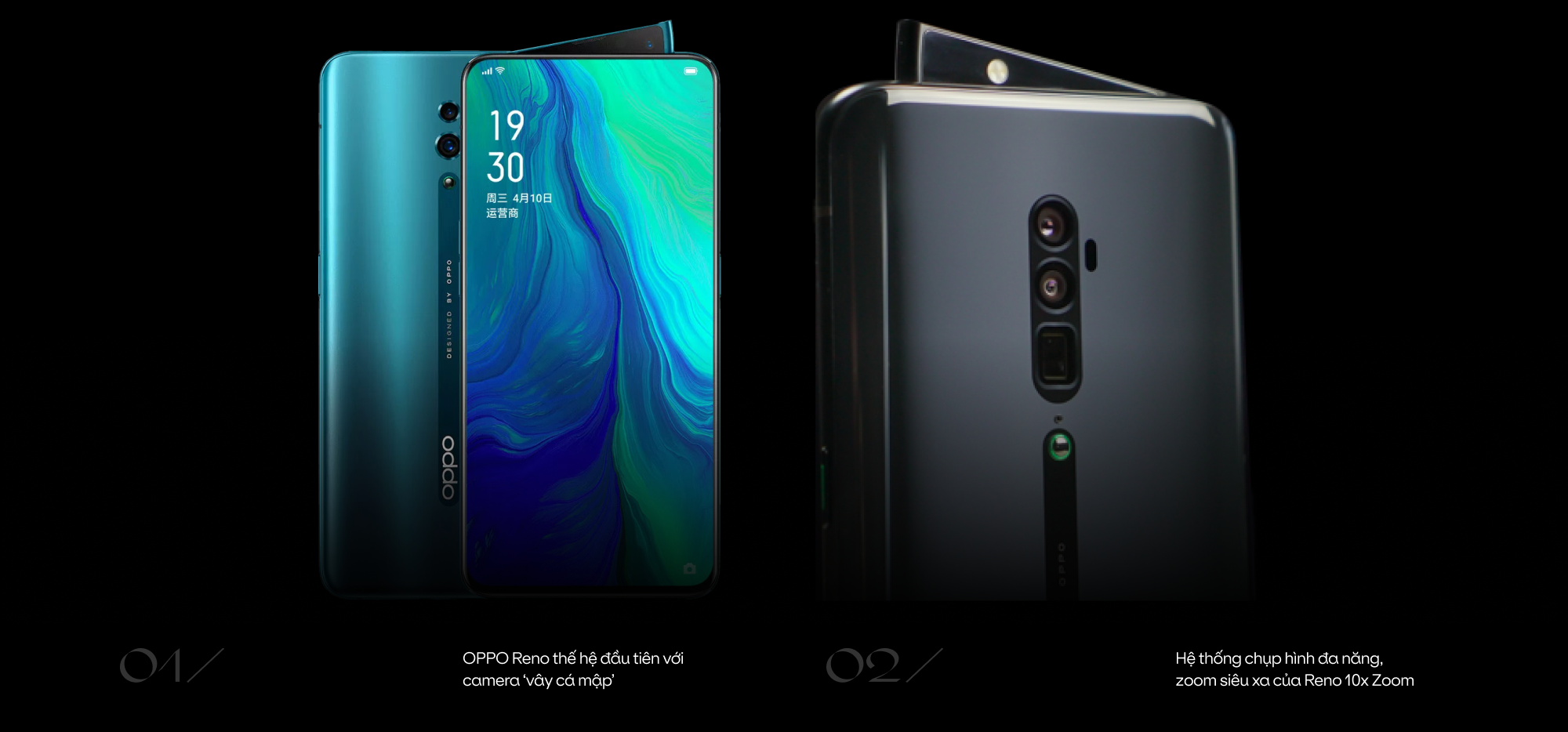 The highlight of the first Reno generation is the OPPO Reno 10x Zoom, which is a high-end chip with cutting-edge photography features. In addition to the 48MP main camera with laser focus, it also has a 13MP periscope camera with a 10x zoom range for capturing distant objects. Until now, the periscope camera is still a feature that is kept by manufacturers for most high-end products, but since 2019 it has been available on Reno.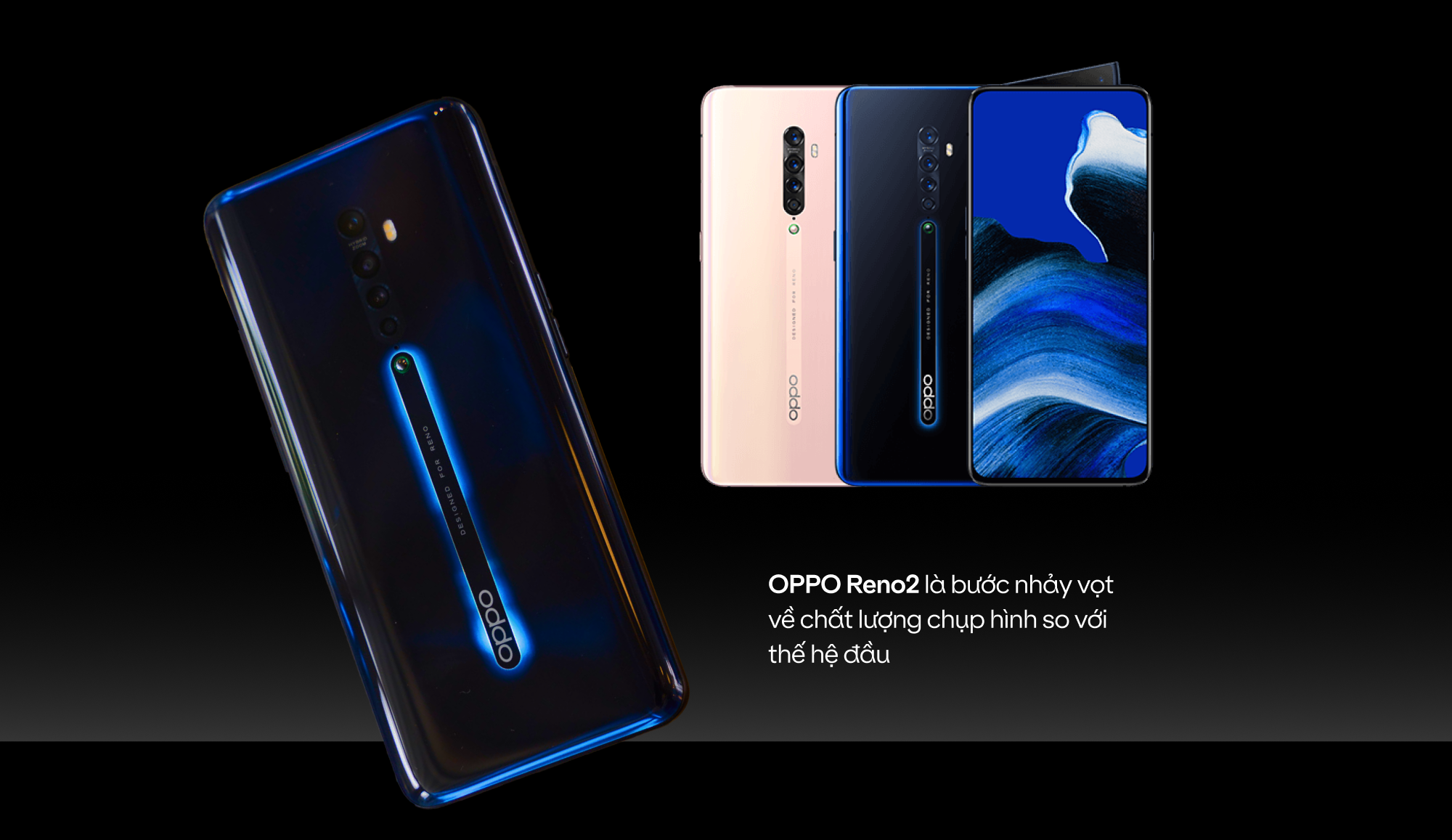 With the exception of the Reno 10x Zoom, the first generation Reno wasn't heavily invested in the ability to take photos with the rear camera. But this completely changed in the second version, as Reno2 is equipped with as many as 4 rear cameras. Accordingly, the device has a 48MP main camera, a 13MP 2x telephoto zoom, a 2MP ultra-wide sensor and a 2MP black and white sensor – packed with all focal lengths for users to freely change angles, serving any situation.

OPPO still calls its products "Selfie Expert", and it is true that OPPO smartphones are often appreciated for their ability to take "selfies" with the front camera. This is evident in the Reno 3rd Edition, more precisely the Reno3 Pro.

This version retains a versatile camera system on the back, including a 64MP main camera, 13MP 2x zoom, an 8MP ultra-wide and a 2MP depth sensor. But in particular: the device has as many as two front cameras, including a 44-megapixel main camera and a 2-megapixel depth sensor, which supports the ability to take selfies with "line removal".

The Reno4 and Reno5 aren't machines that have made huge leaps in imaging capabilities. But this is also an opportunity for OPPO to master other features in addition to the exterior design.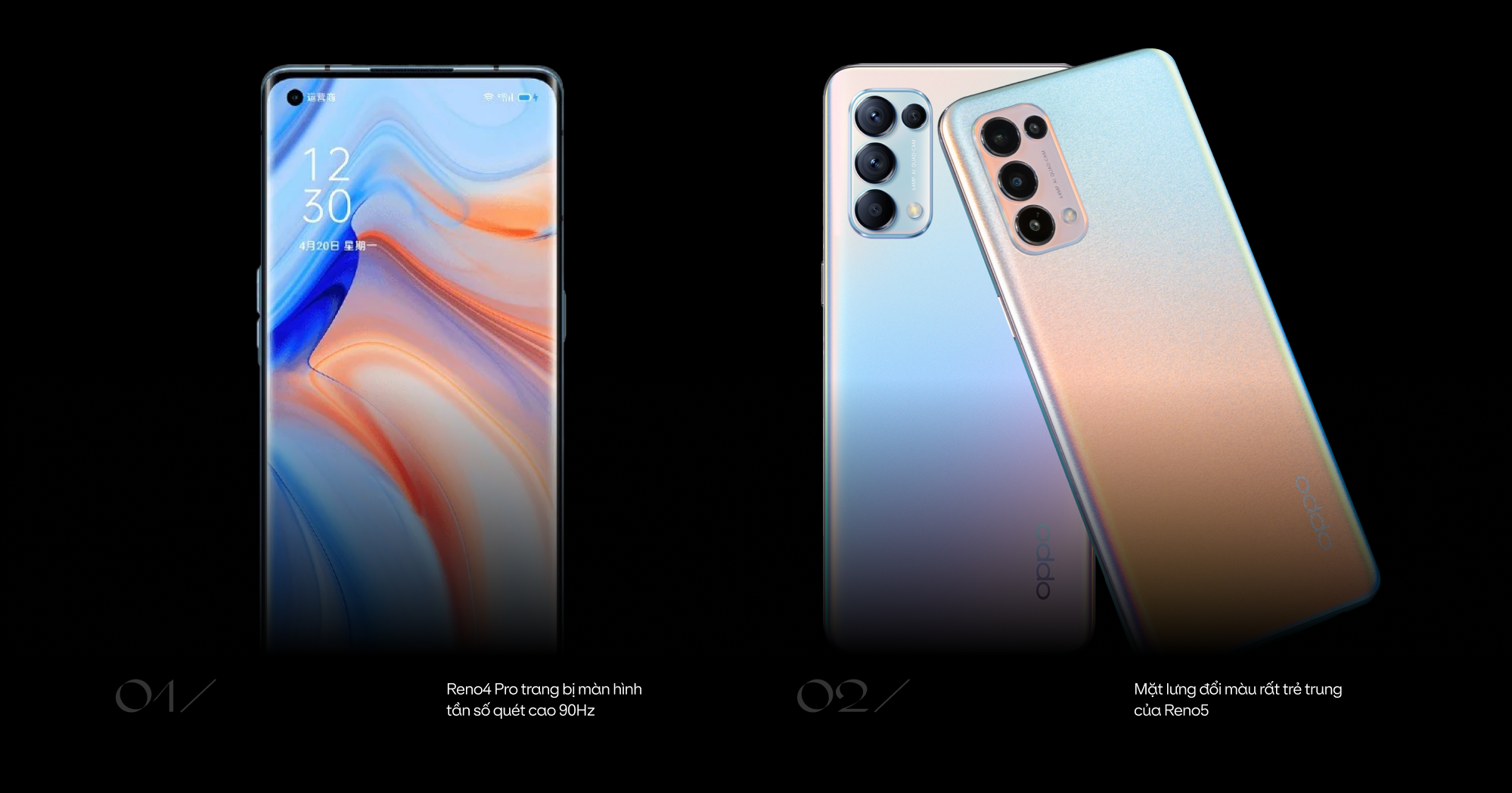 The Reno4 with the Reno4 Pro edition brings a high frequency 90Hz display – a 'feature' that is now standard with any smartphone these days, upgrading the visual experience, smoother feel of a smartphone a lot. The Reno5 once again stands out with its Galactic Blue back design, which is a textured back for a firm grip, with a myriad of tiny shimmering particles that change color depending on the light.


Going back to the sixth version, in addition to the upgrade in the processing configuration, OPPO also has a new innovation in the imaging system, which is the Dual Tone flash. This is a two-color light system, neutral white and yellow like the sun, which allows flash photos to be taken in environmental colors, looking as natural as possible.

In addition to mastering the camera hardware, OPPO also pays great attention to the ability to process photos by software, because this is an indispensable part for creating beautiful photos. OPPO Reno7 is equipped with AI Beautification, recognizing up to 390 points on the face and providing users with 8 tools and 100 different beautification levels.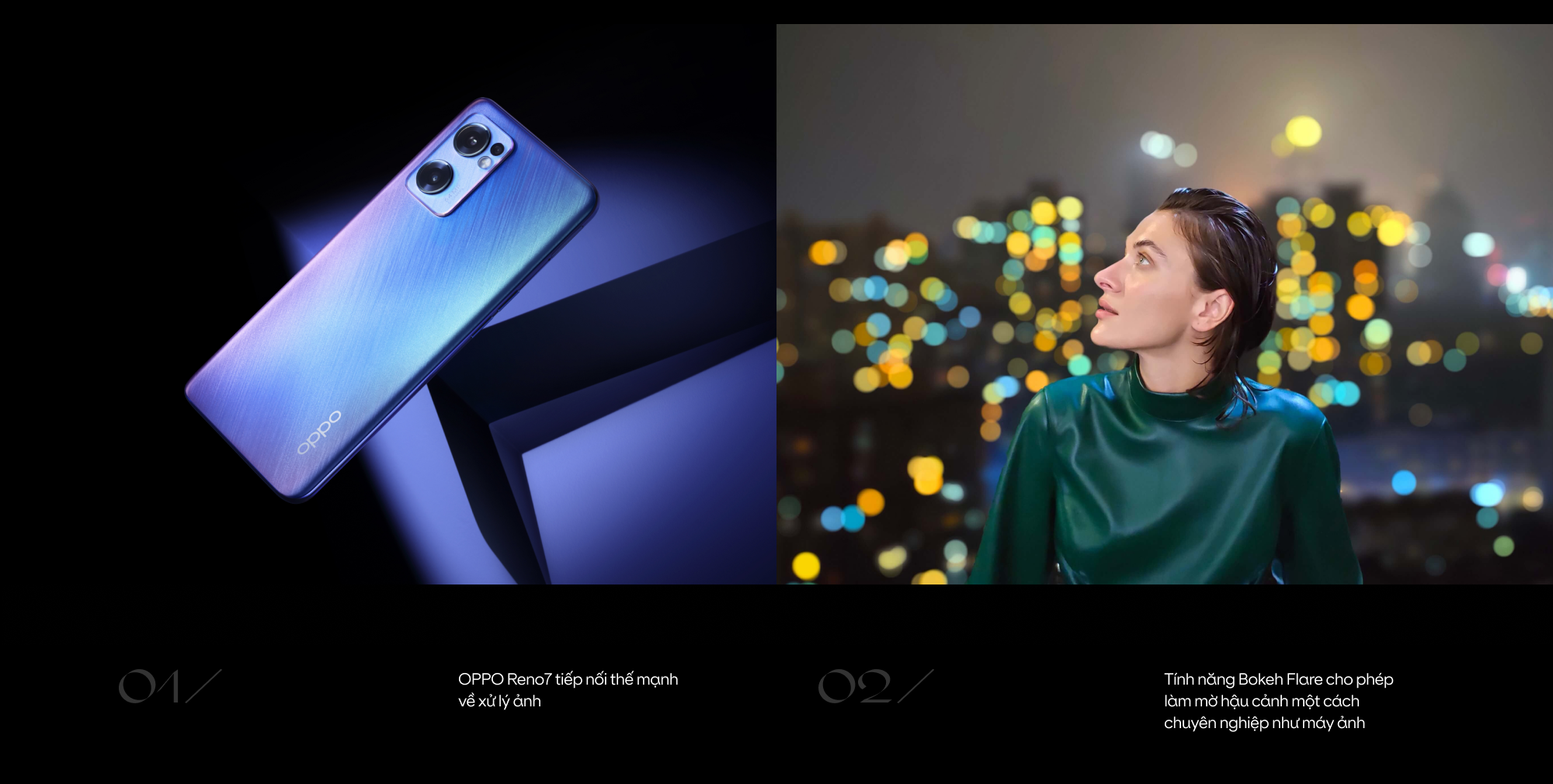 Alongside this is the Bokeh Flare feature for photo and video recording, which allows creating blurry background images like those taken from a professional camera. This feature is supported by a 2MP depth camera, and ensures clear photos with a 64MP main camera.

Camera continues to be the focus of Reno products when it comes to the eighth generation. Both the Reno8 and Reno8 Pro versions are equipped with a 1/1.56″ 50MP large camera, an 8MP wide camera, and a 2MP ultra-wide macro. This is also a duo with a circular (ring LED) flash that creates an even light on the face, like an accessory often used by followers.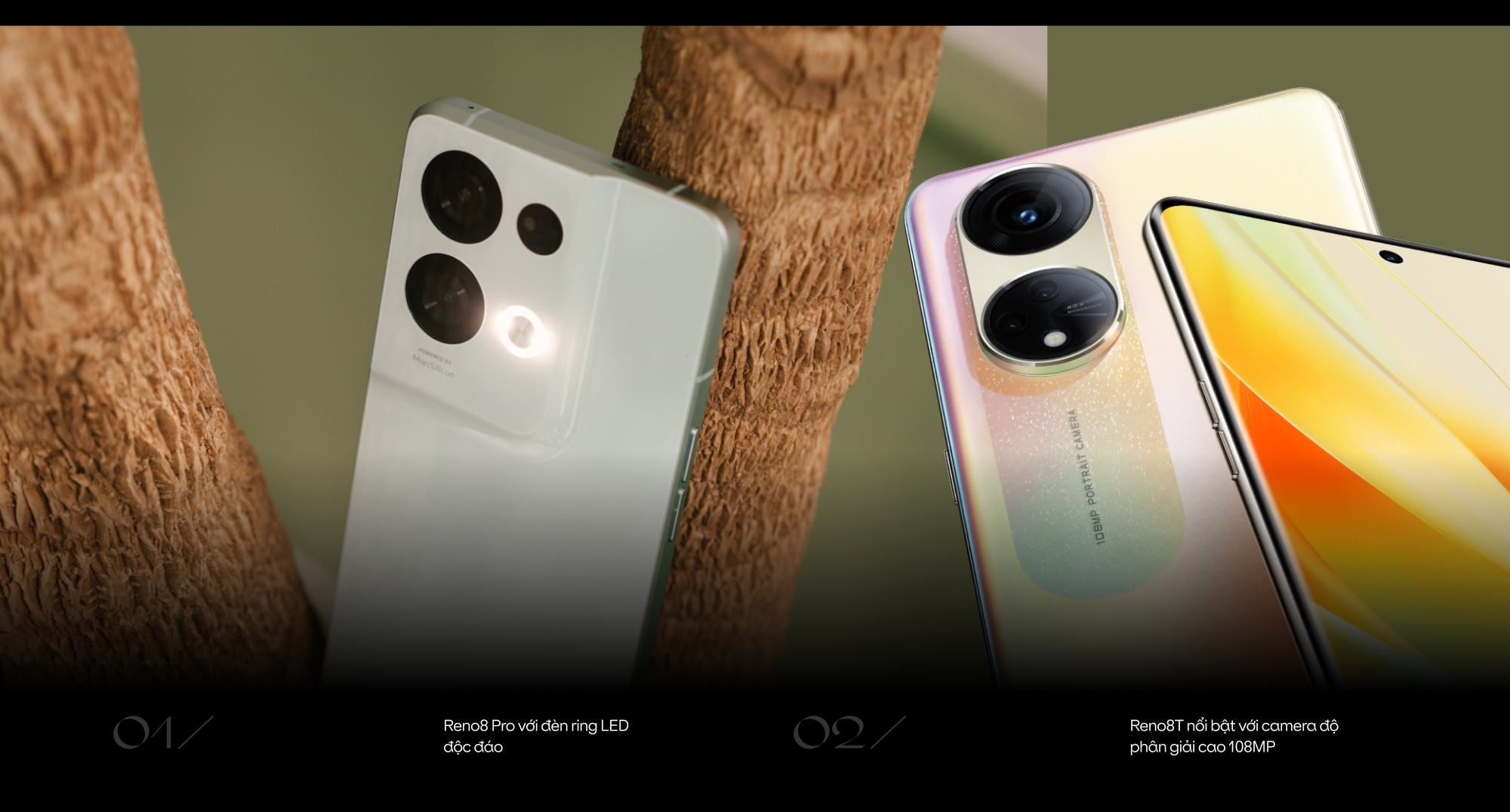 Even the cheapest version of the Reno8 series, the Reno8 T, also has a carefully invested imaging system, with a 108MP ultra-high-resolution main camera to capture the smallest details in a scene, and a 2MP microscopic camera that can capture microscopic objects such as insects and fabric on clothes…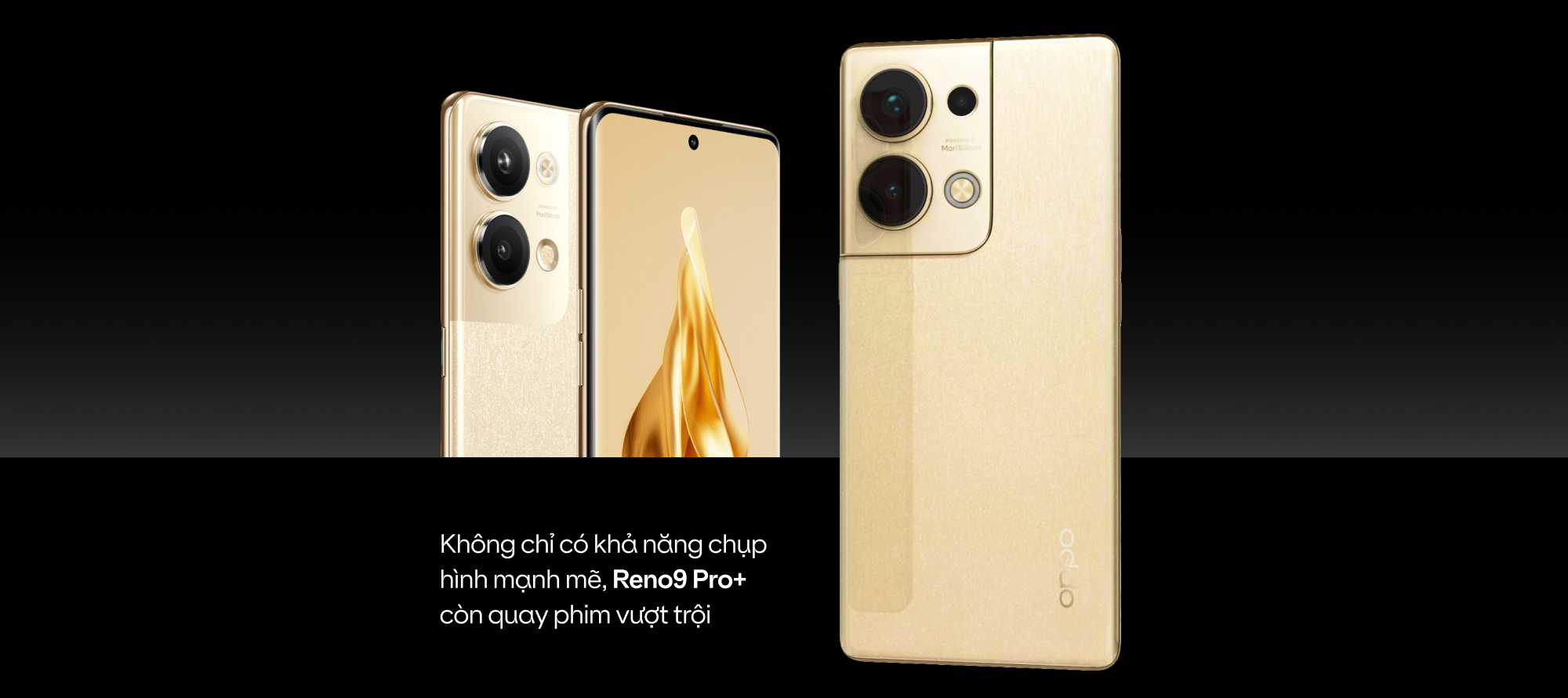 Focus on upgrading the imaging quality, but OPPO Reno still does not forget about the movie recording feature. The Reno9 Pro+ Edition offers the ability to record in 4K at 60fps compared to the previous 4K 30fps standard, without sacrificing sharpness or smoothness. In addition, the device is also capable of 240fps slow-motion recording, optical OIS stabilization and electronic EIS.

With a 'fast' upgrade speed, OPPO Reno has reached the 10th version after just over 3 years on the market. Divided into 3 versions, but the more accessible "junior" version, the Reno10, really has a lot to say. This can be seen as a version that combines the strengths of the previous generation and more, forming a "point 10" of Reno for youth.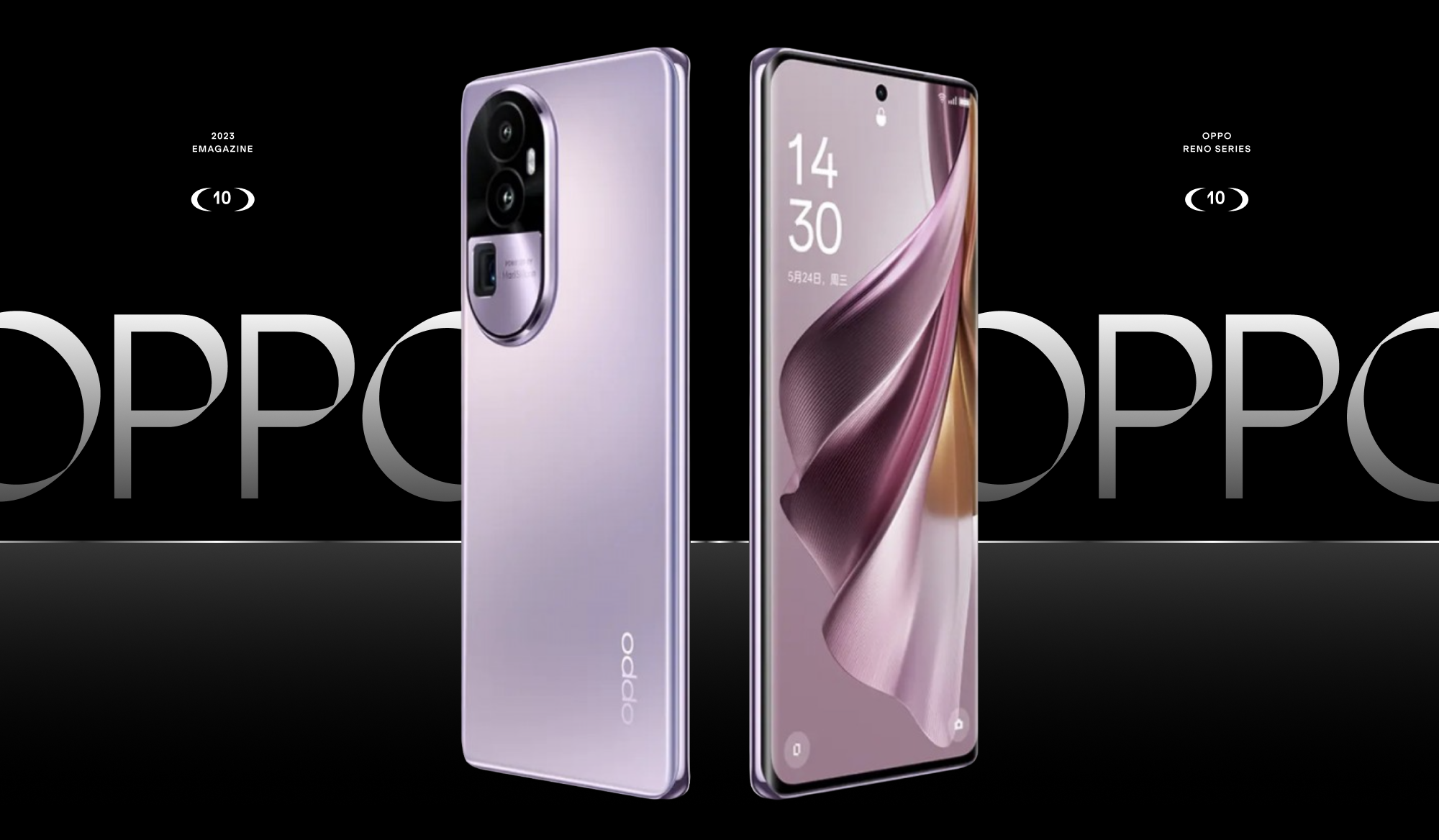 The device continues the striking, youthful design, with a "Snow Blue" glass back that changes from blue to purple when placed in the sun. The camera assembly has been completely redesigned, taking the form of a capsule split in half with the cameras and flash in balance, both "eye-catching" but still "convenient".
The front of the device is as 'bright' as the back, with a large 6.7-inch AMOLED display with FullHD+ resolution, a high 120Hz refresh rate and the ability to display a billion colours. Looking at such a screen, many people will surely say that this is a top smartphone, and not a mid-range one.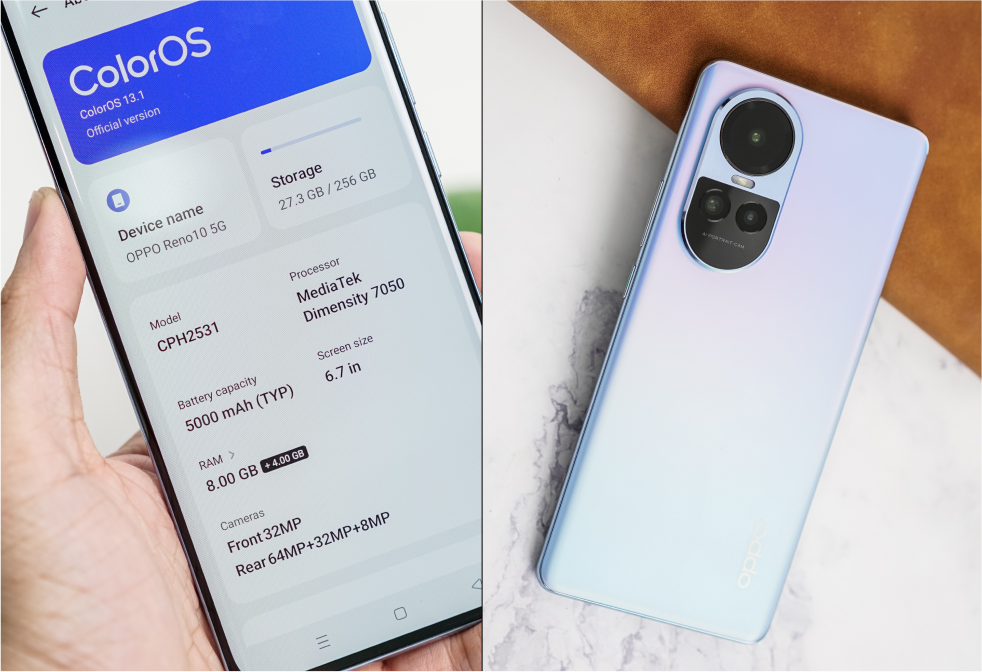 But the most notable strength of Reno10 still lies in the ability to take photos. The device is equipped with a 64MP high-resolution main camera, a 32MP 2x zoom camera with a wide angle that OPPO calls 47mm "golden focal length" and an 8MP Ultra Wide Camera for landscape capture and photography in tight spaces.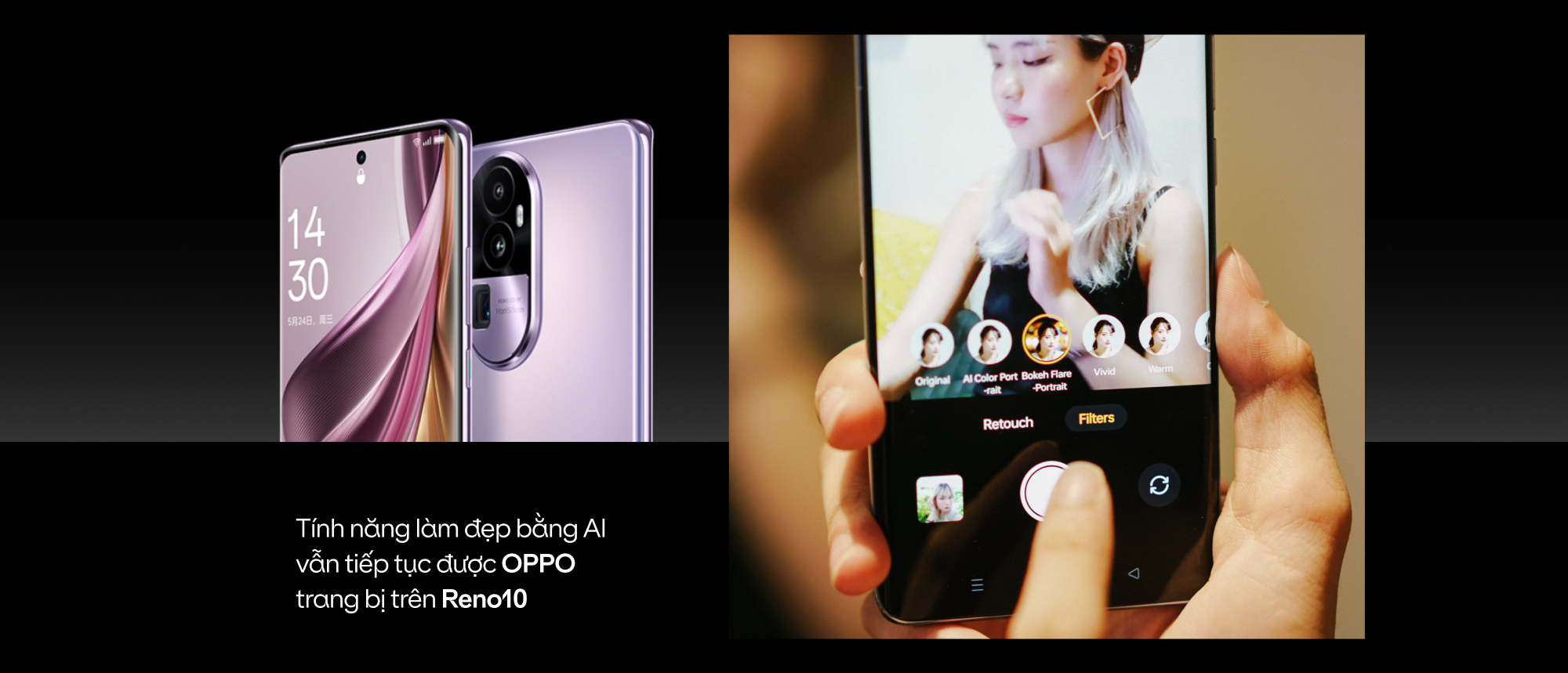 The most remarkable point is that Reno10 allows camera selfies with its 47mm telephoto camera, and it is not limited to the main camera only. In professional photography, long focal length (telephoto) lenses will give the most natural and small angle of view when taking portraits, and do not make the person being photographed "fatter" than usual.
Taking photos with the 47mm telephoto camera on the Reno10 will also create the same effect, which also makes the photo more professional as it looks like it was taken with the camera. Digging deeper into the hardware, the Reno10 telephoto camera also has the industry's largest sensor, precisely 1/2.74″ that increases light collection by up to 257.8 percent, resulting in low-noise images even in low-light conditions.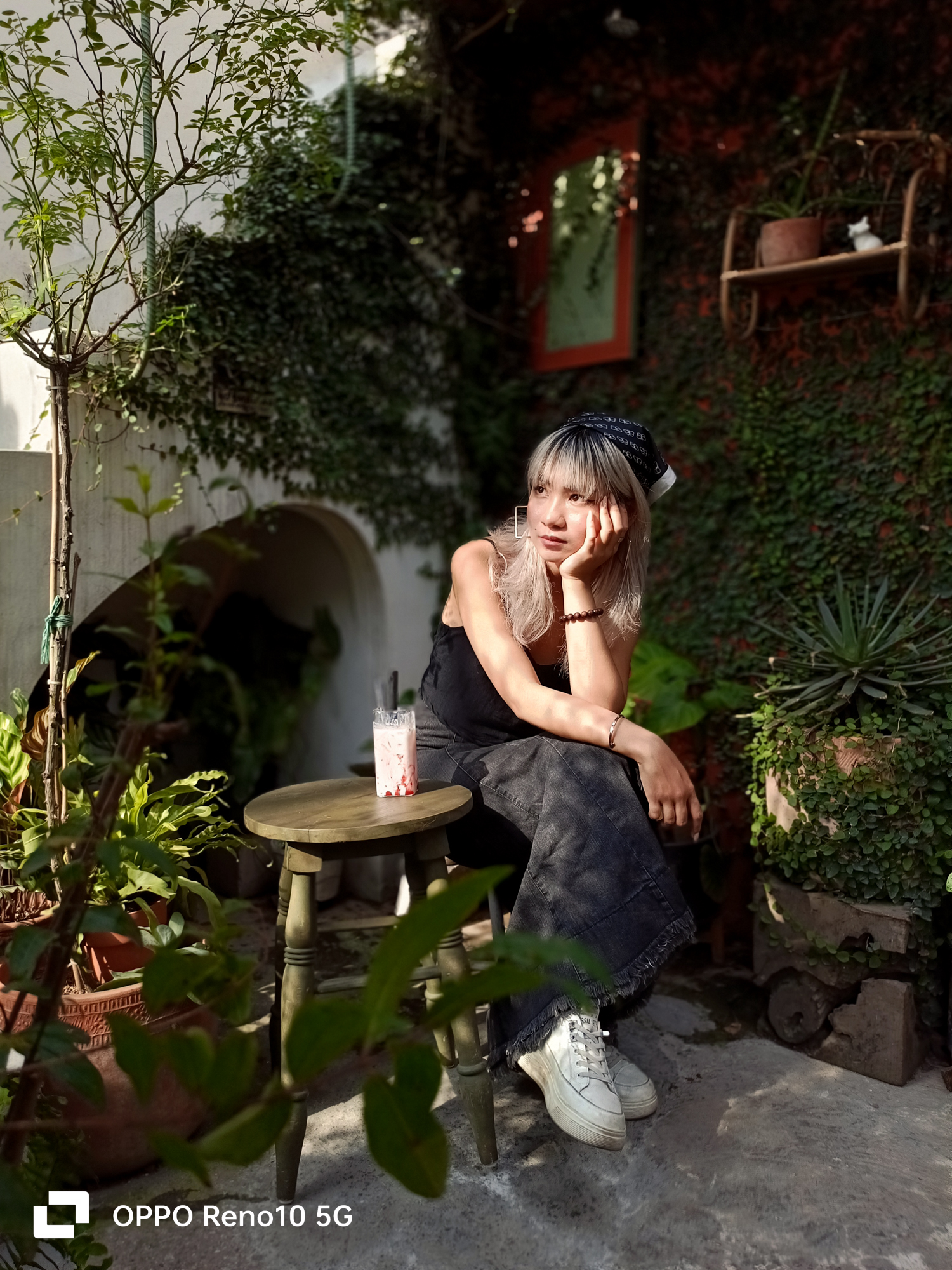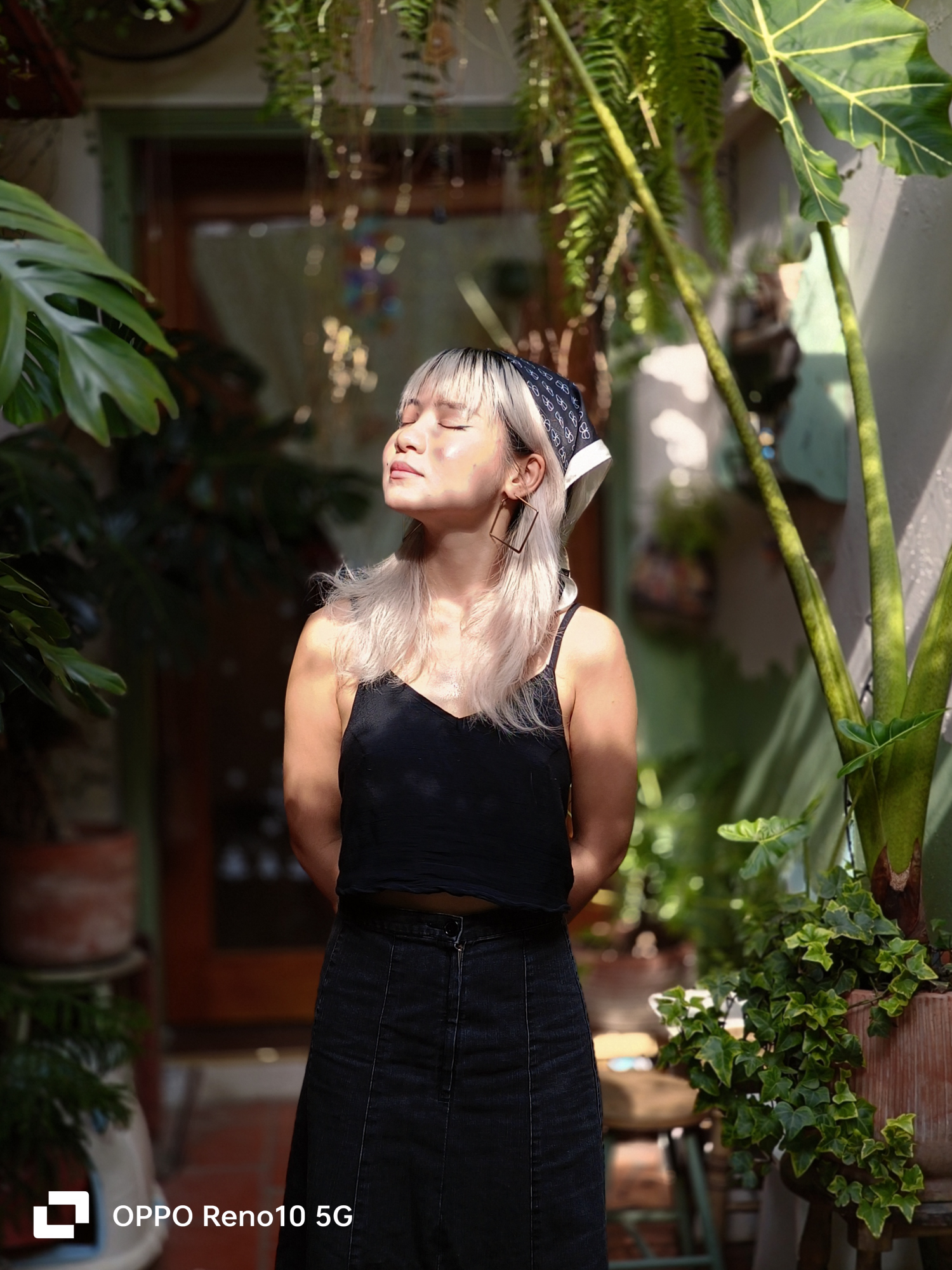 The selfie camera also receives configuration upgrades, with an IMX709 sensor that captures 60% better light and reduces noise by 35% than the previous generation, and an autofocus capability that not all smartphones have. The ability to take selfies has always been a strength for OPPO in general and the Reno series in particular, and the Reno10 continues to do better.
It seems that in the tenth generation of the Reno series, OPPO has had a "big role" in bringing many new technologies from high-end products to mid-range products. This shows that Reno is still an important smartphone line for the brand, and it is still "evolving" to keep up with the active lifestyle of the GenZ generation.